Join us as we welcome Amy Gulick to Browsers in support of her new book, The Salmon Way: An Alaska State of Mind, published by Mountaineers Books.
ABOUT THE BOOK:
Alaskans have deeply personal relationships with their salmon. These remarkable fish provide a fundamental source of food, livelihood, and identity, and connect generations and communities throughout the state. Yet while salmon are integral to the lives of many Alaskans, the habitat they need to thrive is increasingly at risk from large-scale development that threatens both the fish and valued ways of life. As communities wrestle with how best to ensure that both salmon and people prosper in today's world, it is clear that Alaskans are united in their desire for their salmon relationships to continue. Forever.
Intrigued that there is still a place in the world where the lives of people and salmon are inextricably linked, writer and photographer Amy Gulick ventured to Alaska to explore the web of human relationships that revolve around these remarkable fish. Commercial fishermen took her on as crew; Alaska Native families taught her the art of preserving fish and culture; and sport fishing guides showed her where to cast her line as well as her mind. Alaskans everywhere, regardless of their wildly different beliefs, shared their salmon riches with her in their kitchens, cabins, and fish camps—it is the salmon way.
Through engaging stories and stunning photographs, The Salmon Way celebrates the salmon people of Alaska. With an afterword by Alaska Native Dr. Jessica Black, who urges all Alaskans to find a way forward to sustain their salmon relationships, The Salmon Way is a beautiful portrayal of people deeply connected to the fish that define who they are.
ABOUT THE AUTHOR:
Writer and photographer Amy Gulick has received numerous honors including a Lowell Thomas Award from the Society of American Travel Writers Foundation, the Daniel Housberg Wilderness Image Award from the Alaska Conservation Foundation, and the Voice of the Wild Award from the Alaska Wilderness League. She is the recipient of both the Mission Award and the Philip Hyde Grant Award from the North American Nature Photography Association. Her first book, Salmon in the Trees: Life in Alaska's Tongass Rainforest (Braided River, 2010) is both a Nautilus and Independent Publisher Book Award winner. She lives with her husband on an island in Puget Sound.
Event date:
Tuesday, June 4, 2019 - 7:00pm
Event address:
Browsers Bookshop
107 Capitol Way N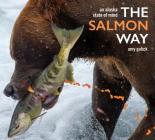 $29.95
ISBN: 9781680512380
Availability: Special Order - Subject to Availability
Published: Mountaineers Books - May 1st, 2019
---